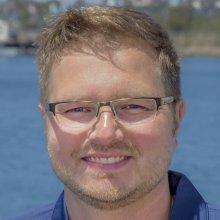 Andrew Walters
Nautilus Ambassador
Teacher
Budewig Intermediate School, Alief ISD
Tell us about your work / research. What kinds of things do you do?
I teach 5th grade Math, Science, and Social Studies at Budewig Intermediate School in Houston, Texas. Early on I took some professional development in STEM (Science, Technology, Engineering, and Mathematics) and it sparked my interest in giving students the opportunities apply the math and science they are learning. I love giving my students challenging Problem Based Learning activities and trying to make them go beyond the regular learning. I integrate real-world problems, hands-on activities, and technology into my classroom as much as possible.
What sparked your initial interest in your career?
My mom is a teacher and I think it just runs in the family. She was one of my biggest influences into heading into education. I was never really sure the level I would teacher, but as I prepared for college I knew I wanted to be involved with teaching. I went on a church mission trip to inner-city Chicago and I worked with 4th-6th graders and I fell in love with the age.
Who influenced you or encouraged you the most?
My parents have always been one of my biggest supporters. They have sacrificed so much to give me so many opportunities while I was younger. They truly are the biggest influence to succeed in all I do.
What element of your work / study do you think is the most fascinating?
The most fascinating thing I do is the interactions and influences I have on the students that walk through my doors daily. There have never been two days that are the same. Each day is a new and exciting challenge and that is what I love about teaching.
What other jobs led to your current career?
I really did not have any other jobs that led to my current career. I worked with Youth at my church and have worked with kids in different functions. However, my only true career has been in education.
What are your degrees and certifications?
Bachelor Degree: Elementary Education (K-6)- University of Nebraska at Kearney, 2009
What are your hobbies?
I enjoy running; I have run a few half-marathons and I ran my first marathon this year. I really enjoy doing about anything outdoors when I can. But most of all, I love spending time with my wife and two kids.
What advice would you give to someone who wants to have a career like yours?
If you want to be an educator you really have to have a heart for working with children/young adults. If you heart is not in it, the it will be miserable. However, for those that can handle it, teaching is one of the most rewarding professions out there. As an educator you have such an influence and connection with the students in your classroom and you get so invested in not just their education, but their overall well-being. Teaching brings something new daily, if not hourly, so it never gets old or boring. It keeps my mind fresh and I love it!