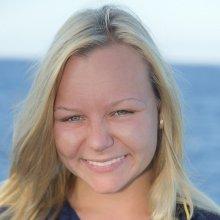 Anastasia Valimaki
Honors Research Program
High School Student
Suncoast Community High School
Anastasia Välimäki is a senior at Suncoast Community High School in Riviera Beach, FL and is participating on this voyage as part of the Honors Research Program. She has participated in the Pine Jog Environmental Leadership program and volunteers to educate children and adults about the importance of preserving the environment locally and globally. Anastasia also volunteers for the American Finnish Club and has organized and hosted fundraising events, such as Quarter Auctions, for the club. She is currently enrolled in her high school's Math, Science, and Engineering and International Baccalaureate programs. Due to her fondness of the water, Anastasia is a member of her high school's varsity swim and water polo teams, and she is a certified lifeguard and an avid scuba diver.

Anastasia Valimaki is pursuing the Math, Science, and Engineering Magnet Program and the International Baccalaureate Diploma Program at Suncoast Community High School in Riviera Beach, Florida. Anastasia is going to earn her high school diploma from Suncoast in 2016. 
"I am excited and honored to be one of the eight high school students to have been selected to this once in a lifetime opportunity. I want to expand my knowledge, and apply what I have already learned and take the information and share with others interested in science." 
Expeditions
Anastasia participated in the following Ocean Exploration Trust expeditions: