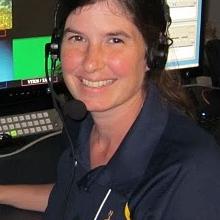 Amy ONeal
Director of Educational Programming
Ocean Exploration Trust
Amy O'Neal is an Educator-at-Sea on board E/V Nautilus.
Amy is the Director of Educational Programming for the Ocean Exploration Trust and coordinates the Educators-at-Sea program. Her work focuses on designing and implementing training programs for educators prior to their adventure on Nautilus, and guiding them while on board. Prior to Amy's appointment with the Ocean Exploration Trust, she was a Middle School Science teacher for 6 years, an informal educator at Mystic Aquarium and Institute for Exploration for over 7 years, and a field researcher with the CT Department of Environmental Protection for the Long Island Sound Water Quality Monitoring Program where she worked aboard the John Dempsey.
Amy graduated with a B.A. in Biology and a minor in the Marine Sciences from Smith College in 1994. As an undergraduate, she also studied with The School For Field Studies' Center for Rainforest Studies in Queensland, Australia in 1993. She is currently pursuing a Masters degree in Science Education from Southern Connecticut State University, and will graduate in Fall 2011.