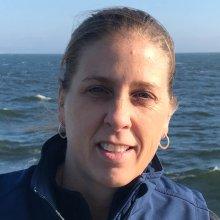 Amity Wood
Science/Data Team
Education and Outreach Coordinator
NOAA Monterey Bay National Marine Sanctuary
Tell us about your work/research. What kinds of things do you do?
My position as Education and Outreach Coordinator for Monterey Bay National Marine Sanctuary is to find creative ways to inspire ocean conservation and stewardship through building awareness and increasing knowledge. Engaging people through education programs at sanctuary visitor centers, delivering public presentations, or just connecting people with inspiring images through social media is part of my educator role. I work to increase the public's ocean and climate literacy by building connections between people and the environment while instilling a sense of the importance of conservation and hope for the future. 
What sparked your initial interest in your career?
One of my earliest memories involved running along a beach searching for shells for hours at a time, never getting bored and always finding something new. This excitement nurtured a love of nature that eventually grew into a passion to explore and learn more. As a became older, I surrounded myself with new ways to explore the ocean, from learning to SCUBA dive to following my academic pursuits, that eventually grew into a love of educating and inspiring others.
Who influenced you or encouraged you the most?
My parents always encouraged and supported me to follow my passion and let the rest of life follow and try to keep up.
What element of your work/study do you think is the most fascinating?
I like that there is so much unknown about our ocean planet and waiting to be discovered, and I can be a part of connecting people to that world. It often seems like a foreign concept that we are so intricately connected to an environment we know so little about, but the challenge is to help create stronger relationships to better ourselves and care more for our ocean.
What other jobs led you to your current career?
Many of my past jobs started out as seasonal, temporary positions that led to other opportunities. After college, I started out pursuing research positions but quickly learned that was not my calling. After a chance job opening teaching marine biology, I found it to be very rewarding to share my knowledge and passion with young minds. Instant gratification was addicting! Once that door opened, I found myself in the best locations for teaching, including Catalina Island, Monterey Bay, and the Oregon coast. All along the way growing a network of colleagues that helped guide and support me, and led to more opportunities. Eventually, I became the director of a marine science education camp, before finally leading to my work with NOAA's Monterey Bay National Marine Sanctuary.
What are your degrees and certifications?
My academic pursuits have led me to achieve a Bachelor's degree in Marine Biology from the University of California at Santa Cruz, and later a Master's degree in Education from the University of San Francisco.
What are your hobbies?
Anything on or in the ocean is key! I love to SCUBA dive, kayak, sail, snorkel, stand-up paddleboard. Mostly I love to plan international travel around these activities, so that takes me to some pretty amazing and remote locations around the globe. I also like succulent gardening and road cycling.
What advice would you give someone who wants to have a career like yours?
My advice always starts with work harder than anyone else around you and always follow your passion, as it will never feel like a job. Don't be afraid to open new doors to experiences with new people, perspectives, and embrace your struggles as learning opportunities. Reach out to those you aspire to be like and learn valuable lessons about their successes and failures, but most of all, create your own path to follow.
How did you get involved with the Nautilus Exploration Program?
In my role with NOAA's Monterey Bay National Marine Sanctuary, I am fortunate to benefit from amazing opportunities to educate in fun and interesting ways using unique platforms, such as the Nautilus live program. This presents a great opportunity to challenge myself, and apply this to other personal and professional goals.
Expeditions
Amity participated in the following Ocean Exploration Trust expeditions: