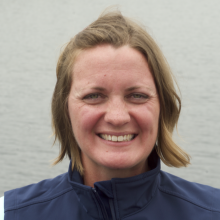 Amelia Cote
Nautilus Ambassador
7th Grade STEM Science Teacher
Olle Middle School, Alief Independent School District
Tell us about your work/research. What kinds of things do you do?
I teach 7th Grade STEM Science which mostly focuses on the life sciences at Olle Middle School in Houston, Texas. Seventh-grade students are an exciting age to teach because of how much the students change throughout the year. My favorite part of teaching is incorporating "Problem- Based Learning" (PBL) where the students are able to explore and show their creativity as they learn. 
What sparked your initial interest in your career?
I wanted to work in a challenging environment where I could inspire kids to love learning about animals and how nature works. 
Who influenced you or encouraged you the most?
My parents have been the biggest cheerleaders anyone could ask for! They always wanted me to become a teacher and were patient and supportive when I took the long way to my career path. I thought it would be the worst job ever, it turns out that they were right, I was wrong, and I love what I do!
What element of your work/study do you think is the most fascinating?
I enjoy working with a diverse group of kids: interests, academic levels, backgrounds... they keep me on my toes. Every day is different, fun and most importantly, meaningful!  
What other jobs led you to your current career?
Despite exploring the "idea" of other careers in college, teaching was my first career. I have taught in Chicago, New York City, and now Houston.  
What are your degrees and certifications?
Bachelor of Science in Biological Anthropology - University of Michigan 2004
Bachelor of Science in Secondary Education - Northeastern Illinois University 2008
What are your hobbies?
I love the outdoors (fishing, camping) and traveling.
What advice would you give someone who wants to have a career like yours?
Work with kids! Volunteer as a coach, mentor, tutor or any other role in the community, at church, school or in college that will help you develop people skills, teach you time management and give you experience. If you find a subject that excites and inspires you to be a lifelong learner, it will be easy to infuse that enthusiasm in your lessons.   
How did you get involved with the Nautilus Exploration Program? How did you get on the ship?
I was nominated to participate in this program through colleagues and collaborators in the STEM program at Olle Middle School, Alief ISD.
Expeditions
Amelia participated in the following Ocean Exploration Trust expeditions: