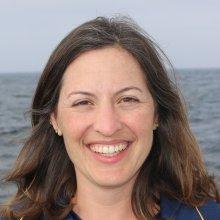 Amanda Netburn
Science/Data Team
Knauss Fellow in Marine Policy
National Oceanic and Atmospheric Administration
Tell us about your work / research. What kinds of things do you do?
For my PhD research, I studied fish that live in the deep open ocean- specifically those that live in the mesopelagic zone, which is 200-1000 m (600-3000 ft) deep. At first glance, one might think that the deep open ocean is all the same, but temperature, salinity, oxygen, and other factors actually change quite significantly with depth. I study how these environmental factors affect the distribution and individual fitness of fish in order to understand how they may respond to human-induced changes in their environment, such as loss of oxygen, which fish need to survive. Currently, I am a John A. Knauss Fellow in Marine Policy at NOAA Office of Ocean Exploration and Research (OER). Here, I am developing a national water column exploration program, and work closely with partners such as OET and academic researchers. I also write policy documents for the national ocean exploration program, conduct outreach for expeditions on the Okeanos Explorer, and develop priorities for exploration-based grants on behalf of NOAA.
What sparked your initial interest in your career?
I first learned that people can study fish for a living during college when I worked for a summer program in Oregon for Native American high school students called Salmon Camp. I spent a lot of time teaching about the role of salmon in the ecosystem, and I was really jealous of the fishery scientists that I met! Not long after this, I got to study fish myself on a research sailing expedition with the Stanford@SEA program (a collaboration between Stanford and the Sea Education Association). I did a research project on lanternfish- the same kind of fish that I studied years later for my PhD research!
Who influenced you or encouraged you the most?
I have been lucky to have a number of great mentors over the years, but I would say Dr. Barbara Block is someone who definitely influenced me a lot. With others, she started the Stanford@SEA program in 2003, which provided me with my first opportunity to go to sea. I have since spent many months on ships!
What element of your work / study do you think is the most fascinating?
Throughout my research I have typically been limited to studying animals by collecting them with trawl nets. There is a lot that I am able to learn from samples collected this way, but with the ROVs that my office and partners like OET operate, I can see how the animals that I study behave in their environment, and it is really amazing!
What other jobs led you to your current career?
I have had a lot of different jobs that relate to the ocean. In my first job out of undergrad, I conducted research on sustainable seafood for the non-profit Blue Ocean Institute (now called The Safina Center). I have worked as a SCUBA Instructor and a small boat captain in Hawaii, as well as a "fish farmer" for an offshore aquaculture company. I believe that this range of experiences has given me a great appreciation for the many types of people who benefit from exploring the ocean, and help inform my current position setting national-level priorities for ocean exploration.
What are your degrees and certifications?
Bachelor of Science in Biological Sciences - Stanford Univeristy 2003; Masters in Marine Biodiversity and Conservation- Scripps Institution of Oceanography (UCSD) 2010; PhD in Oceanography- Scripps Institution of Oceanography (UCSD) 2016
What are your hobbies?
Whether it is swimming, hiking, or just laying around with a book, I love spending time outdoors. I have a wonderful dog who usually joins me out there.
What advise would you give to someone who wants to have a career like yours?
Studying the ocean is as fun as you could imagine at times, but becoming a scientist requires expertise at many skills, some of with which you will inevitably struggle. I believe that a combination of curiosity, an open mind to accepting new and challenging opportunities, and a strong work ethic has led me to where I am today. So, ask questions, go somewhere you've never been before, and whether it is learning to code or going to sea for a month, don't let something that initially seems too hard get in your way.
How did you get involved with the Nautilus Exploration Program? How did you get on the ship?
The Ocean Exploration Trust has been a long-time partner of my office, NOAA Office of Ocean Exploration and Research. We arranged this opportunity so that I can learn more about how OET conducts operations, get to know our partners, and to contribute my knowledge about the water column animals.