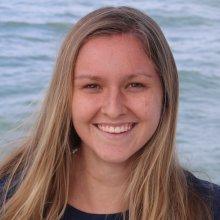 Ally Aplin
Ocean Science Intern
Undergraduate
University of California, Santa Barbara
Tell us about your work/research. What kinds of things do you do?
I work as an Intern and am training to be Facility Coordinator at the Research Experience and Education Facility (REEF) aquarium on campus at UCSB. We work in husbandry to take care of our organisms by feeding, cleaning, and otherwise taking care of the facility. We also host programs for K-12 students, in which we teach them with the overall goal to increase their science literacy. In my training, I am learning the administrative side of aquarium work, overseeing mussel tissue shucking for the Department of Health as well as delegating tasks to make sure the facility is taken care of.
What sparked your initial interest in your career?
When I was a little girl, my dad and I would go tide-pooling in search of an octopus. Searching and exploring all the crevices along my local beaches turned out to be some of my favorite childhood memories. As I grew older, my desire to explore only grew and manifested into a deep love for anything and everything to do with the ocean. Joining the National Ocean Sciences Bowl team in high school and taking an amazing marine ecology class made me realize that this is what I want to pursue for the rest of my life.
Who influenced you or encouraged you the most?
My high school teacher, Mr. Hudson, took my classmates and I on two incredible field studies to Monterey and Baja, Mexico. His hands-on teaching approach encouraged me to continue to explore the ocean, work collaboratively with others, and taught me how to best study and learn.
What element of your work/study do you think is the most fascinating?
With so little of the ocean discovered, there is always so much to see and know. I love the fact that we can explore the ocean with our advanced technology, and that there is always room to learn more. I feel like I'm always seeing a new exciting creature or learning about something significant within the ocean that impacts our whole Earth.
What other jobs led you to your current career?
I worked at the Pacific Marine Mammal Center in Laguna Beach, CA as a docent throughout high school which grew my love for marine mammals and the ocean that they inhabit. Also, I studied coral reefs and the effects of ocean acidification on Cape Eleuthera one summer, which was so eye-opening that I knew I needed to continue studying the ocean in college.
What are your hobbies?
I love skiing with my family, hiking, photography, going to the beach with my friends, and writing.
What advice would you give someone who wants to have a career like yours?
For those who want to get involved in marine biology, I suggest getting out into the field in any way that you can. At the end of the day, the experience is what is really important in this area of study. Many people think that all marine biologists do is study fish, but in reality, it's very important that you have a broad skill set because there are mathematicians, engineers, communicators and writers, and many other types of careers that end up being important for the ocean. Having an open mind and being adaptable is very important for someone interested in having a career in the marine sciences.
How did you get involved with the Nautilus Exploration Program? How did you get on the ship?
Two of my co-workers at the REEF at UCSB had gone on the Nautilus for the Seafloor Mapping Internship and the Ocean Science Internship, which sounded so incredible that I knew I needed to apply too. I also was fortunate enough to attend a seminar hosted by Bob Ballard one summer on deep-sea exploration, which sparked my interest as well.