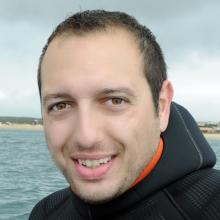 Alexis Catsambis
Co-Investigator Ashore
Maritime Archaeologist & Cultural Resource Manager
U.S. Naval History and Heritage Command
Dr. Alexis Catsambis heads the Underwater Archaeology Branch of the U.S. Naval History and Heritage
Command in Washington, D.C. Since 2008, he has promoted the management, research, preservation,
and interpretation of submerged U.S. Navy heritage sites. He holds his graduate and doctoral degrees
from the Nautical Archaeology Program of Texas A&M University and completed his undergraduate
studies with the Institute of Archaeology and Antiquity of the University of Birmingham in the United
Kingdom. He has also completed graduate certificate programs in Historic Preservation, Artifact
Conservation, and Nonprofit Management at Texas A&M University and Georgetown University.
 
Dr. Catsambis is a member of the Board of Governors of the Washington Society of the Archaeological
Institute of America, a former Vice Chair of the Advisory Council on Underwater Archaeology, and he has
previous experience with the Warren Lasch Conservation Center of Clemson University and the NATO
Centre for Maritime Research & Experimentation in La Spezia, Italy. His publications include serving as
co-editor of the "Oxford Handbook of Maritime Archaeology," and co-author of the textbook "Our Blue
Planet: An Introduction to Maritime and Underwater Archaeology," while he has lectured at numerous
academic institutions.
Expeditions
Alexis participated in the following Ocean Exploration Trust expeditions: