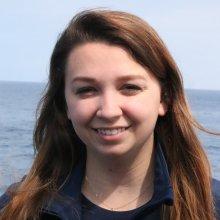 Alexandra Dawson
Seafloor Mapping Intern
Undergraduate
College of Charleston
Tell us about your work / research. What kinds of things do you do?
I have spent my college career focusing on ocean mapping and the geology associated with it. I have worked specifically with underwater sand waves, determining their velocity and current direction based on the symmetry and peakedness of each specific sand wave. I have always been interested in underwater exploration and I think that the ocean floor can give us specific clues about Earth's previous history.
What sparked your initial interest in your career?
In the fifth grade, I was on a field trip to Florida to swim with the manatees that reside in the Crystal river. While snorkeling in the cold waters of January in the Rainbow River, I was in awe of the life that was below me. While other students were trying to swim fast and get it over with due to the cold waters, I tried to stay behind as long as possible to take in as much as I could. After that trip, I began reading one of Robert Ballard's books and fell in love with ocean exploration and the story of how he discovered the Titanic. Once I became involved in the Honors Research Program in 2014, I was suddenly surrounded by the people I read about in Ballard's book. I was hooked and since then, I have paved my college career with the end goal of spending my life exploring the world around us and below the visible surface.
Who influenced you or encouraged you the most?
Dr. Leslie Sautter at the College of Charleston influenced me the most by encouraging me to be the best scientist I could be and taught me how to speak like an educated geologist when presenting my work. She's one of the toughest professors I've ever had, but she is also my absolute favorite.
What element of your work / study do you think is the most fascinating?
The most fascinating thing about my work is being able to determine why something is occurring by looking at the bathymetry of the sea floor. In the case of my sand wave research, I was able to take something as large as my study site and broke it down into smaller pieces to determine the larger picture is the most fascinating.
What other jobs led you to your current career?
Currently, I am a student at the College of Charleston but I have been involved in the BEAMS program at CofC, I have sailed aboard the Nautilus and the R/V Savannah, and I have presented my work at the 2017 US Hydro meeting and won first place for my study. Presently, I am a rising Junior at the College and I hope to continue to widen my area of expertise.
What are your degrees and certifications?
I am working on my Bachelor of Science in Geology at the College of Charleston.
What are your hobbies?
My hobbies include photography, spending time at the beach, biking around Charleston, and spending time with my sorority sisters!
What advice would you give to someone who wants to have a career like yours?
If you find something you love but think the outcome is somewhat unachievable, keep trying. There have been so many times when I've doubted myself but I've come up figuring it out or finding my way there. While you're in class, take in everything you can because one day you'll be able to apply it to so many different things. Take classes in things that you're somewhat interested in but would like to know more about. Becoming a well- rounded student is the most important thing. Fields like these require many different facets of education whether it be math, science, archaeology, history or even English. Don't give up. One day it'll all be worth it.
How did you get involved with the Nautilus Exploration Program? How did you get on the ship?
I applied and was accepted to the Honors Research Program in 2014 after my long time interest in OET's work.
Expeditions
Alexandra participated in the following Ocean Exploration Trust expeditions: