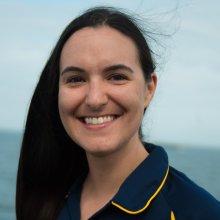 Alexandra Avila
Science Intern
Outreach Fellow
NOAA Office of National Marine Sanctuaries
Alex Avila is an Outreach Fellow for the NOAA's Education, Outreach and New Media Division. Alex has always loved anything and everything having to do with water, whether it's the ocean, rivers or lakes. This has led her to work in many coastal areas in the United States and in Ecuador. She has studied the genetic diversity and conservation of the misty grouper (Hyporthodus mytacinus) in the Galapagos Islands, conducted environmental impact research in the Amazon, researched the oyster (Crassostera virginica) and blue crab (Callinectes sapidus) populations in the Chesapeake Bay with the Smithsonian Environmental Research Center (SERC), and helped in assessing the salmon habitat in Oregon with the U.S. Forest Service. She has also done wildland firefighting. Alex is really excited to be here for it has been a dream of hers for a long time to do deep sea research and she is truly grateful for this unique opportunity to work with people who are as passionate about protecting our oceans as she is.
Alex Avila graduated with a B.A. in Biology from Hood College in Maryland, with two minors: Coastal Studies and Environmental Science and Policy.  She recently obtained a M.Sc. in Ecology at the Universidad San Francisco de Quito (USFQ) in Ecuador and hopes to attend Oregon State University to get a PhD in fisheries management. 
"Deep sea creatures have always fascinated me. They are such beautiful and fascinating creatures wrapped in mystery! I love learning new things and what better place to learn new things than the place from which we know the least about!"
Expeditions
Alexandra participated in the following Ocean Exploration Trust expeditions: