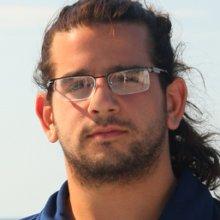 Alex DeCiccio
Communications/ Documentarian
Media/Production
University of Rhode Island, Inner Space Center
Tell us about your work / research. What kinds of things do you do?
I am a cinematographer and photographer based in Rhode Island. I work as a media producer at the University of Rhode Island's Graduate School of Oceanography. At URI/GSO there is an amazing place called the Inner Space Center. The ISC is where the raw streams for the Nautilus come in and get turned around back to the internet. Sometimes, I get to tag along with different science and research expeditions, like this one onboard the E/V Nautilus, to document the work, the science, and the people.
What sparked your initial interest in your career?
I was always the dirtiest kid at the end of the day. I loved it. My mother maybe less so. I would watch a lot of nature documentaries. There was something about those extremely slow pans across landscapes, revealing detail after detail, that allowed me to take everything in. I found myself thinking, there is someone behind that camera, experiencing that image. Spark! I want to be that guy. That is where a lot of my inspiration lies. Like some others, being able to bring people into moments and landscapes is something I had to make happen. By no means a master, but the adventure has been great so far.
Who influenced you or encouraged you the most?
My family. My father, although not a professional cameraman, was always recording gatherings, events, and sometimes just daily life. He would narrate over the recordings, build characters and whether he knew it or not, was always encouraging me to record. There was something special about how at that time in the 90's, he democratized camerawork for me. He let me know it could be done for fun and you don't need your work to not be fun. It isn't part of your contract.
What element of your work / study do you think is the most fascinating?
Documenting science and research expeditions in the field.
What other jobs led you to your current career?
I hold a pretty strict line with myself that any job I take needs to be related to production and telling stories. The Inner Space Center has been a huge motivator to go out and see what the world of freelance and other media industries are doing. The ISC works with so many groups and we all work with media. The connections are strong.
What are your degrees and certifications?
Bachelor of Arts in Film/Media Studies - University of Rhode Island 2010
What are your hobbies?
Photography.
What advice would you give to someone who wants to have a career like yours?
Take pictures and get uncomfortable fast.
How did you get involved with the Nautilus Exploration Program? How did you get on the ship?
I work with the Nautilus daily. Monitoring live streams and communicating with the OET production team that lives inside the Inner Space Center. This will be my fourth cruise with the ship.
"What the Nautilus and other research vessels are doing today will be something memorable tomorrow. Being lucky enough to be part of it is a difficult experience to match."
Expeditions
Alex participated in the following Ocean Exploration Trust expeditions: