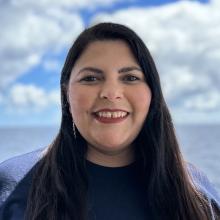 Alejandra Martinez
She/Her
Lead Science Communication Fellow
7th Grade Science Teacher
Memorial Junior High, Eagle Pass, Texas
Tell us about your work/research. What kinds of things do you do?
I have been teaching 7th grade science at Memorial Junior High for 17 years. I love being able to awaken the scientists and explorers within my students as we learn all that science has to offer. I actually attended Memorial Junior High as a kid and I want to show my kids that they can strive for anything that they imagine. Everything is possible as long at they try and never give up.
What sparked your initial interest in your career?
I am passionate about science communication and making science accessible to everyone. I previously sailed aboard the E/V Nautilus in 2013. Since then I have participated in teacher professional development and expeditions around the world. I sailed as an Education and Outreach Officer aboard the JOIDES Resolution for two months in the Indian Ocean, I've tagged along with paleontologists in the Montana desert searching for dinosaur fossils, I've accompanied a team of scientists to the Arctic studying the effects on climate change of the tundra and I've visited Panama and Colombia as a National Geographic Grosvenor Teacher Fellow. All of these experiences allow me to show my students how much fun science can be as they virtually follow our class mascot, SloMo The Sloth, on social media.
Who influenced you or encouraged you the most?
My dad has been my lifelong teacher. As a child, we would read National Geographic Magazine before bed. I remember an issue from what must have been the 1980s. Dr. Bob Ballard imagined what his ROVs would some day be capable of. Now I get to go along for the adventure!
What element of your work/study do you think is the most fascinating?
What I love about teaching 7th grade science is that I get to introduce my students to the world of science. In my district, they begin junior high as 7th graders, and for the first time they have a class entirely dedicated to the subject. We get to do labs and talk about everyting from elements of the periodic table to the expansion of the universe. I am the lucky teacher that gets to foster the love of science within these students just as they are developing into people that will change our world.
How did you get involved with the Ocean Exploration Trust?
I first became involved with Ocean Exploration Trust through the University of Texas Geo Force program, a 9th-12 grade program that takes students out into the field to learn geology.
What are your degrees and certifications?
Bachelor of Science in Wildlife and Fisheries Sciences from Texas A&M University and a Masters Degree in Education from Sul Ross State University
What are your hobbies?
I love baking and hanging out with my three dogs Penny, Scout, and Max.
What advice would you give someone who wants a career like yours?
For anyone who strives to be a teacher and science communicator, remember that you are the only one that can set your limits. Never stop striving for what you want. Success is just beyond failure.
Expeditions
Alejandra participated in the following Ocean Exploration Trust expeditions: