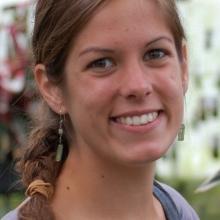 Aleece Nanfito
Data Logger
Syracuse University
Aleece Nanfito works as one of the data loggers onboard the E/V Nautilus.
Aleece just received her master's degree in Earth Sciences from Syracuse University. Her work focused on the structural analysis of rift-parallel, strike-slip faulting and dike intrusions related to rift propagation in Iceland. She is interested obtaining higher resolution structural data from the seafloor. She is also interested in science education and developing inquiry-based exercises that use real data for undergraduate sciences classes.
Aleece graduated from University of Nebraska at Omaha in 2008 with a degree in Geology.