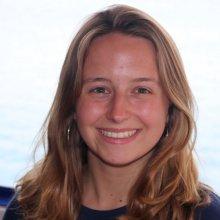 Alecia Dezzani
Ocean Science Intern
Undergraduate
University of California, Santa Barbara
Tell us about your work/research. What kinds of things do you do?
I am a fourth-year undergraduate, and I am currently studying biology with an emphasis in aquatic biology. I work for the Research Experience and Education Facility (REEF) at UC Santa Barbara, where we provide thousands of visitors "an ocean view of the world" with our hands-on aquarium and curriculum. Here, I work with guests of all ages as an informal educator, and I help care for the facility and the animals. I also assist with surveying projects by the Santa Barbara Coastal Long Term Ecological Research Project, in which they monitor different species of animals and algae at underwater sites throughout the Santa Barbara Channel.
What sparked your initial interest in your career?
As a child, I read lots of books about ocean creatures of all shapes and sizes, and they fascinated me. My family would also take camping trips along the California coast, where we would spend time on beaches and tidepools. When I was in the sixth grade I visited UC Santa Barbara for the first time and explored the REEF, where I now work!
Who influenced you or encouraged you the most?
I am thankful for the support from my family, friends, and teachers, who could see how excited I was about the ocean from a very young age. They always encouraged me to follow my interests, and supported me no matter what!
What element of your work/study do you think is the most fascinating?
I love working with visitors of all ages and helping them explore the rich underwater community right in Santa Barbara. There is nothing like helping someone touch a squishy sea cucumber or a prickly urchin for the first time! I am amazed at how a hands-on experience draws in visitors, even if they were apprehensive before. It always makes me excited when visitors are excited to explore too!
What other jobs led you to your current career?
Previously, I have tutored students in math and science, which helped solidify my passion for education. I also worked for UC Santa Barbara Orientation Programs, where I helped welcome incoming students to the university. I learned so much from being an official representative of UCSB, as well as communicating with hundreds of students and their families from all over the world!
What are your degrees and certifications?
I am currently working towards my Bachelor's Degree in Biological Sciences. I am also a certified Scuba diver, with Scientific Diving and Rescue Diving certifications.
What are your hobbies?
I love scuba diving and water skiing with my friends and family!
How did you get involved with the Nautilus Exploration Program?
I heard about the program after watching Nautilus Live during an outreach program at the REEF. After watching many videos and images from their expeditions, I was hooked! Soon after I applied through the Nautilus Science & Engineering Internship Program.
What advice would you give someone who wants to have a career like yours?
I did not grow up near the ocean, so it sometimes felt difficult to really dive into this interest. However, if you are passionate about something, you will always find a way to make your ambitions happen! Learn something from every experience you have- whether it is school or a job or volunteering- and you can build up a "toolbox" of skills and knowledge that you can take with you anywhere!