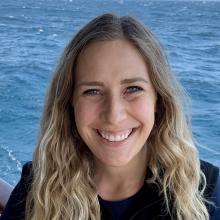 Adrienne Shumlich
Dive logger and GIS Specialist
Ocean Networks Canada
Tell us about your work/research. What kinds of things do you do?
I am a GIS Specialist at Ocean Networks Canada. My primary role on this expedition will be dive logging, which entails ensuring the ROV Video feed and Deck Log is annotated (so that viewers of the live feed are able to understand what is happening), instruments are turned on/off when needed, and fluid communication is established with our shore support team/necessary scientists. I will also be working in conjunction with my other GIS colleagues to ensure accurate maps of our instruments and cables are provided.
What sparked your initial interest in your career?
I started studying GIS because I found the field fascinating. By spatially analyzing data, we have the ability to explain the patterns, relationships, and trends of our world. Whether you want to know the extent of a forest fire, how a hurricane has impacted infrastructure in a city, the path a mammal typically takes during its migration, or the complex topography of the ocean floor, GIS and Remote Sensing presents a world of endless possibilities. Additionally, as someone who has a lifelong love of learning, I am also drawn to the fact that this is a sphere which is dynamic and constantly changing and growing.
Who influenced you or encouraged you the most?
My first Geography teacher has influenced and encouraged me the most. He was the one to first provide me with a research assistant position, and always encouraged questions and attempts to dig deeper into the learning material. He also was the one to encourage me to attend graduate school.
What element of your work/study do you think is the most fascinating?
The most fascinating thing about GIS is the multitudes of applications. My graduate research involved mapping glaciers at almost 4000 meters above sea level, and I now get to work on mapping the seafloor at some sites nearly 3000 meters below sea level.
What other jobs led you to your current career?
During my undergraduate, I first became interested in the field of oceanography during my first physical geography class. After that, I decided to write an undergraduate thesis in Arctic Oceanography. I enjoyed doing my own research so much that I decided to do a Masters of Science and focused on mapping rock glaciers in Argentina. I then decided to return to ocean science, and due to my background in GIS, Remote Sensing, and Oceanography, I was able to obtain a position at Ocean Networks Canada as a GIS Specialist.
What are your degrees and certifications?
Masters of Science in Geography -- University of Delaware 2018, Bachelor of Science in Geography -- University of Calgary 2015
What are your hobbies?
I love hiking with my dog named Bear, running, reading, and making things with yarn!
What advice would you give someone who wants to have a career like ours?
It's nearly impossible to have it all figured out at once. I've never had life very well mapped out, and just simply made decisions/pursued opportunities as they come. It's lead to some fun adventures with lot of twists and turns. Also, never be afraid to ask for help. Some of my most exciting adventures started with simply telling a professor I enjoyed their material and wanted to learn more, or be a part of their research team. For the most part, people want to help you along your career path.
Watching ROV footage can be incredibly exciting. Even if you are logging in the middle of the night, there's nothing that wakes you up quite like a flash of a bioluminescent jellyfish floating across the screen. I am looking forward to all of the incredible creatures of the deep sea that we will see!
Expeditions
Adrienne participated in the following Ocean Exploration Trust expeditions: