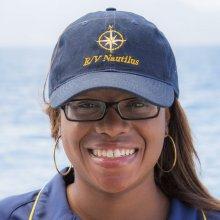 Adrienne George
Ocean Science/Mapping Intern
PhD Candidate
University of South Florida
Adrienne George is a PhD candidate at the University of South Florida College of Marine Science.The main objective of her dissertation is to characterize coral diseases in Taiwan and China. While abroad, Adrienne worked with Academia Sinica in Taipei, Taiwan and Chinese Academy of Sciences in Guangzhou, China through the NSF EAPSI in 2012 and 2013. Adrienne's additional research experiences include the Partnership Education program at Woods Hole Oceanographic Institution, Delaware National Estuarine Research Reserve, and MOTE Marine Laboratory REU program. Her sea experience includes the NOAA Okeanos Explorer for 3 weeks from Galveston, TX to Norfolk, VA as a watchstander and assisting NOAA scientists with processing multibeam data and the Multicultural Students at Sea Together (MAST) program for 4 weeks in Chesapeake Bay studying marine policy, marine science, and the history of African Americans and Native Americans on the Bay.
Adrienne George graduated from Delaware State University in 2009 with a B.S. in Natural Resources and Environmental Science. She completed her M.S. in Marine Science with a concentration in Biological Oceanography in 2011 from University of South Florida (USF) and she is currently working on her PhD in Marine Science at USF as well.
"In 1987, American Poet Richard Wilbur affirmed his views of the world and the importance of ocean exploration when he stated, "All that we see is touched by ocean, yet we remain on the shore of what we know". I wanted to be an intern with the Nautilus Exploration program because I believe ocean exploration and research is the key to the future."
Expeditions
Adrienne participated in the following Ocean Exploration Trust expeditions: