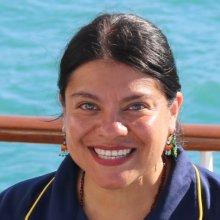 Adriana Gaytán-Caballero
Science/Data Team
Graduate Student
Universidad Nacional Autónoma de México
Tell us about your work / research. What kinds of things do you do?
My thesis dissertation embraces taxonomy, molecular biology and ecology of the crustaceans groups squat lobsters (Munidopsis) and caridean shrimps (Alvinocaris) that inhabit mainly chemosynthetic ecosystems. The sections of my thesis include the basin wide distribution patterns of these abyssal species by recognizing, in a first step, the species by its unique morphology, biology and life histories (i.e. development and diet); and the characterization of the region's geology, as well as the environmental characterization of the locations where squats lobsters and caridean shrimps are recorded. I compare my results, of ecosystem function, with other deep-sea ecosystems and habitats. Modeling tools, based on the environmental preferences of the species, allow me to evaluate the connectivity of the metapopulation. This information is useful for decision making in Mexico, i.e. conservation. 
What sparked your initial interest in your career?
My interest in making my studies in biology and particularly in marine biology, come since my childhood holidays visiting our family living at Acapulco, a famous touristic place with contrasting rocky shores and calm bays. I enjoyed swimming out the beach with my mom, and imagine how much life was in the blue immensity. In my everyday life, my fascination with the sea increased by reading books and watching marine documentary films. At college, I realized that this blue immensity is poorly known, furthermore, that there are more people who have visited the moon, than people who have visited the deepest point on our planet. And, that there is uncommon life inhabiting the darkness and cold deep-sea. I have had the opportunity to learn from an excellent scientist in my country that makes her research in this interesting environment. I feel proud to be part of the people that make discoveries to the science. 
Who influenced you or encouraged you the most?
At college my teachers encouraged me to engage in deep-sea research by showing me how much knowledge is needed in our country and gave me the great opportunity, for the first time, to board a research vessel and live the science.
What element of your work / study do you think is the most fascinating?
The most fascinating experience I have made is to be part of the discovery of chemosynthetic based ecosystems on a knoll in the southern Gulf of Mexico at over 3000 meters (9800 ft) depth. I had the opportunity to observe in real time, with the support of an ROV, the activity of organisms living on asphalt formations.
What other jobs led you to your current career?
My fascination has increased and I enjoy being onboard of research vessels after diverse cruise experiences with my advisor (Professor Elva Escobar Briones) and my advisor's collaborators. I have had the opportunity to learn more about equipment operation and sailor coordination work. As these activities at sea, are uncommon to people, I enjoy communicating through seminars and writings to informal audiences, as well as participating in "open access" visits to our laboratory. Now I realized that science-adjacent skills are needed to communicate it and make it as a part of our culture and development. 
What are your degrees and certifications?
Bachelor of Science in Biology, Universidad Nacional Autónoma de México 2005
Master of Science in Marine Biology, Graduate Program in Marine Sciences and Limnology, Universidad Nacional Autónoma de México 2009
Working experience: Teacher "A" at the Biology and the Earth Sciences schools, Universidad Nacional Autónoma de México, since 2007
What are your hobbies?
I love my culture and practice ancient Mexican dances ("Aztec dances"). And I really enjoy taking walks with my family that includes dogs. 
What advice would you give to someone who wants to have a career like yours?
If that young person has interest in studying marine biology take every chance to apply the knowledge acquired in oceanography disciplines since studying the ecosystem includes the relationships of biotic and abiotic components. The multidisciplinary view is needed and will enrich the interpretation of the future discoveries that are waiting for us in the depths. 
How did you get involved with the Nautilus Exploration Program? How did you get on the ship?
I got involved with Nautilus Exploration Program thanks to my advisor (Professor Elva Escobar Briones) who selected me to participate in this leg based on my experience with her in her research programs. My advisor has pursued that her students engage in this type of experiences, based on our interest that has allowed us to watch sea exploration through telepresence.