From Shore to the Abyss Project Panel:
Explorer Classroom | Hawaiʻi's Sharks 101 with the Ocean Exploration Trust Expedition: Shark Team
Wednesday, October 5, 2022 — 8:00 am Hawaii • 11:00 am Pacific • 2:00 pm Eastern
Bring ocean exploration to life in your classroom!
Watch the Mālama Manō project team, Explorer Ariana Agustines, Educators Kelly Koller and Daniel Kinzer, Researcher Sara Khalid, and Storyteller Jennie Burgland, to learn how they will research shark and ray diversity and abundance around Maui and the island of Hawai'i using low-impact and non-invasive research techniques to help inform shark conservation measures in the area. Explorer Classroom is a free, live YouTube show that connects learners with National Geographic Explorers.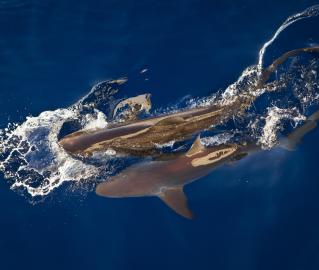 E/V Nautilus Expedition
In our second leg of the From Shore to the Abyss program, OET and National Geographic Society are exploring the waters of Maui and Hawaiʻi island while studying sharks and microplastic pollution investigating the intersection of humans and the ocean environment to inform policy and management of this ecosystem.