Blog:
The Joy of Sharing Ocean Exploration with Classrooms and Communities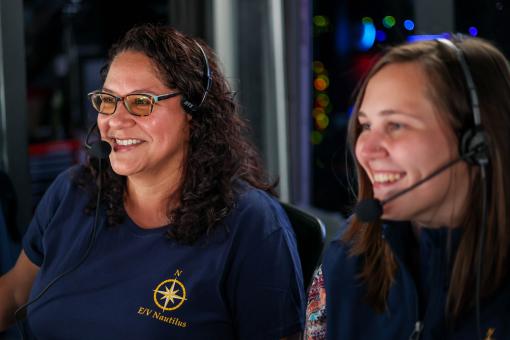 Ocean Exploration Trust
This blog was written by Suraida Nañez-James, a guest educator from NOAA Ocean Exploration joining the Multi-Vehicle Exploration expedition at Geologist Seamounts.
As I sit on the deck of E/V Nautilus, staring at the big blue waves, I am reminded that being at sea is a privilege. Not many get the opportunity, and I for one never thought I'd be out here doing what I love in the middle of the Pacific Ocean. I find ways to reconnect with the ocean as well as the endless stars that fill the sky. On an expedition with teammates coming together from seven different institutions shows how we can all bring our knowledge to share.  Connecting with schools across the nation and beyond gives me hope that we can inspire a more diverse community of ocean scientists, conservationists, engineers, videographers, and educators. We have so much to do, and it will take all perspectives to accomplish it.
Ocean Exploration Trust — the team who own and operate E/V Nautilus — prioritizes education and outreach, making sure that anyone who is interested has the opportunity to join us on our journey of exploration through our live streams, social media, and ship-to-shore connections. Students and educators virtually come aboard to participate in live research and apply real-world science into their classrooms. They can ask anything they are curious about like, "What is the goal of the expedition?" or "What is it like to live at sea?"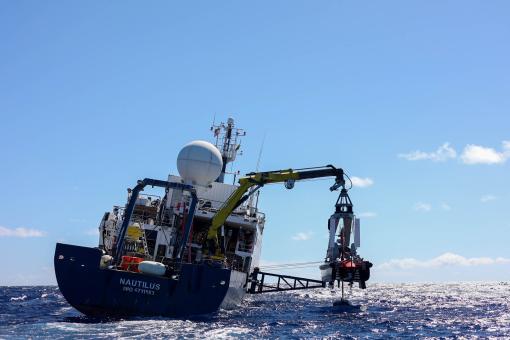 Credit
Ocean Exploration Trust
For expedition NA155 an expedition advancing how different ocean exploration technologies can work together, we emphasize the importance of mapping with the ship's multi-beam echosounder and the uncrewed surface vehicle Drix as well as video and sampling  from hybrid remotely operated vehicleMesobot. We show learners some of the unique glimpses of animals that may be common in the ocean but are rare to capture on video. The students are thrilled, and I can often see and hear their excitement as the chatter gets louder with exclamations of "wow" and "cool." I had an early morning connection with 7th graders from my own community of Corpus Christi, Texas. 
Many asked insightful questions and some fun ones about extinct animals. One girl raised her hand and asked a plethora of questions. She was so curious about everything we have been doing these past two weeks. "How do I get on the ship? What's the strangest animal you found? What's the tallest underwater mountain? Does it take a long time to build the robots?" These were some great questions, but we also had to give the other students a chance to ask their questions. Later in the day, I received a message from their teacher saying thank you and that the students had more questions! Their interest had been piqued! 
Connecting and sharing the science aboard the ship has been a huge highlight during my short time at sea. At times I feel much like the students we connect with daily. I have so many questions I want to ask. The science team is busy with the tech but is always willing to jump right in and answer questions about how DriX and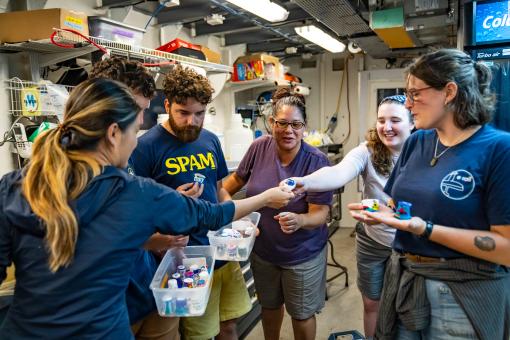 Credit
Ocean Exploration Trust
Mesobot are able to "talk" to each other, how fast DriX can move through the water as it maps, plus the development changes of Mesobot as we continue to test its capabilities to explore and share life in the mesophotic zone. Because of this collaboration, we can be sure that what we do here now will be remembered for a long time.
So as I let go of my sea legs and embrace the land again, I say mahalo to the ocean for being kind and for sharing its wisdom and splendiferous treasures not only with me but with the hundreds of curious young minds that are always so excited to see and hopefully hear what the ocean has to share. It serves as a reminder to all of us to stay curious, be still, and listen with intention. There is still so much to learn.