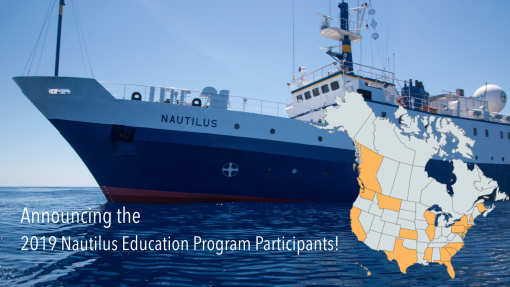 Ocean Exploration Trust
After reviewing a record-breaking number of competitive applications, the Ocean Exploration Trust is pleased to announce the selected 20 educators and 21 students who will join the 2019 Nautilus Expedition Corps of Exploration as Science Communication Fellows, Science & Engineering Interns, and Nautilus Ambassadors. Bringing unique perspectives, varied professional experiences, and representing communities across North America, these participants will join Exploration Vessel (E/V) Nautilus as we launch our next expedition. In May 2019, the team returns to the Eastern Pacific Ocean to map and survey unexplored regions from Southern California to the Central Pacific of Samoa and US Territorial Trust islands. Stay tuned for more announcements about the upcoming season and highlights on these ocean explorers!
2019 Science Communication Fellows
The Science Communication Fellowship immerses formal and informal educators and artists in the Corps of Exploration as expedition communicators. Fellows play a vital role in supporting the mission of Ocean Exploration Trust by incorporating the excitement of ocean exploration, science, technology, engineering, and math into their schools, organizations communities, and sharing it with a global audience via the Nautilus Live website. Fellows become ambassadors for exploration, delivering personal accounts, expedition operations, and daily life at sea to varied audiences through live audio commentary online, ship-to-shore broadcasts, local events, and creative instruction within their home classrooms, schools, organizations, and communities. Congratulations to these fellows!
Danielle Bailey | University of Southern Mississippi's Marine Education Center - Ocean Springs, MS
David Chan | Pennington Marine Science Center - Avalon, CA
Yashira Cruz Rodriguez | Smithsonian Marine Station and Ecosystems Exhibit - Palm Bay, FL
Madison Dapcevich | IFLScience - San Francisco, CA
Susan Groff | Middle College High School Santa Ana USD - Santa Ana, CA
Erin Horan | Lemont High School - Lemont, IL
Brandy Jones | Alexander Elementary Alief ISD - Houston, TX
Justin Richards | Spartanburg School District Six - Spartanburg, SC
Carrie Roble | Hudson River Park - New York City, NY
Brandon Rodriguez | Vaughn Charter High School & NASA JPL - Glendale, CA
Scott Simon | University of California Santa Barbara REEF - Santa Barbara, CA
Valeria Tamayo-Canadas | UCSB Bren School of Environmental Management - Santa Barbara, CA
2019 Lead Science Communication Fellows
Kelly Ferron | Washington State Department of Ecology - Mercer Island, WA
Alix Leszczynski | The Franklin Institute - Philadelphia, PA
Brian Soash | Science Friday - Richmond Hills, GA
Jon Willis | University of Victoria - Victoria, British Columbia, Canada
2019 Science & Engineering Interns
The Science & Engineering Internship Program trains undergraduate and graduate students studying ocean science, engineering, maritime science, and broadcast technology hands-on in the field of ocean exploration within the at-sea environment. Intern positions entail 2-5 week periods working aboard E/V Nautilus as Data Loggers, Seafloor Mappers, ROV Pilots, Navigators, or Video Engineers. In addition to their field-specific skills, all interns are mentored and trained in communications, leadership, and education outreach. SEIP Interns have been part of the Nautilus Exploration Program since 2011, with an alumni group of 114 participants. This year, 21 interns were selected across the five internship disciplines to sail throughout the expedition season.
ROV Engineering
Jake Bonney | University of Rhode Island - Narragansett, RI
Allisa Dalpe | University of New Hampshire - Dover, NH
Paul Glick | University of California San Diego - San Diego, CA
Cassidy Gonzalez-Morabito | Rutgers University - Stewartsville, NJ
Avery Malachi | Colorado Technical University - Houston, TX
Video Engineering
Jessica Kaelblein | University of Rhode Island - Narragansett, RI
Nic Reed | Bates College - Tacoma, WA
Anthony Scopazzi | California State Maritime Academy - Vallejo, CA
Ashley Siana | Montana State University Bozeman - Bozeman, MT
Seafloor Mapping
Sarah Bremmer | University of Wisconsin Madison - Madison, WI
Manny Byas | College of Charleston - North Charleston, SC
Meg Esrey | Duke University - Mission Hills, KS
Marc Fortner | University of New Brunswick - Hanwell, New Brunswick, Canada
Victoria Obura | University of New Hampshire in partnership with the Nippon Foundation / GEBCO Scholars Program - Durham, NH
Victor Chilamba | University of New Hampshire in partnership with the Nippon Foundation / GEBCO Scholars Program - Durham, NH
Jahnelle Howe | City College of New York in partnership with NOAA EPP - New York, NY
Ocean Science
Ashley Davis | University of South Carolina - Irmo, SC
Alecia Dezzani | University of California Santa Barbara - Santa Barbara, CA
Peyton Lee | University of Washington - Seattle, WA
Gina Selig | University of Hawaii Hilo - Hilo, HI
TaylorAnn Smith | Ball State University - Beecher, IL
Navigation
Christopher Jaques | US Coast Guard Academy - New London, CT
Alexander Wang | US Naval Academy - Annapolis, MD
Nautilus Ambassador Program
The Nautilus Ambassador Program brings invited educators from our Community STEM Program sites aboard E/V Nautilus to participate in an oceanography training course and authentic ocean exploration missions. Ambassadors gain an introductory exposure to ocean science, technology, engineering, STEM career pathways, and telepresence communications during their time onboard. Ambassadors support the mission of the Ocean Exploration Trust by becoming hometown role models for ocean exploration and resources for their peers, students, and communities.

Scott Collins | Lemont High School - Lemont, IL

Bob Fulbright | Alief Independent School District - Houston, TX

Jason McGee | College Oaks Elementary School - Lake Charles, LA

Kim Moore | West Oso Independent School District - Corpus Christi, TX