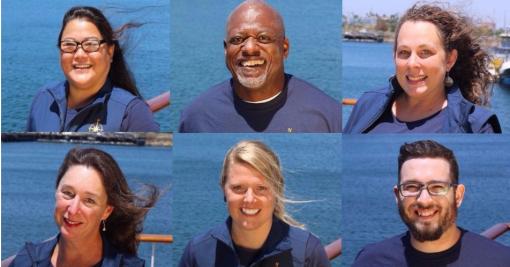 Ocean Exploration Trust
2017 Ambassadors, left to right: Catherine Greenspon, Samuel Freeman, Katherine Gertz, Stacy Sinclair, Katelyn Sullivan, Hector Martinez
As E/V Nautilus begins exploring Central California this year, the Corps of Exploration welcomes the 2017 cohort of the Nautilus Ambassador Program aboard. Nautilus Ambassadors are leading educators in communities participating in OET's Community STEM Program. Ambassadors represent their community at sea and will return home as role models and leaders in helping other educators become familiar with the importance of ocean exploration as well as OET's education programs and resources.  With the support of OET partners --  CITGO, AltaSea, and the Goldhirsh Foundation -- six Nautilus Ambassadors will participate in this unique education program.
Selected from a competitive pool of applicants, Nautilus Ambassadors are invited aboard E/V Nautilus to experience life aboard a research vessel and to see firsthand how deep-sea exploration and research is conducted. The group gains exposure to real-world applications of the science, technology, engineering, mathematics, arts, and leadership skills taught in classrooms, after school programs, museums, and educational institutions ashore. The Nautilus Ambassadors join the Corps of Exploration as full expedition members shadowing STEM professionals around the vessel, standing watch during exploration dives using remotely operated vehicle technology, and helping to communicate the excitement of exploration and discoveries on www.NautilusLive.org.   
Furthering their reach as community role models, Ambassadors conduct ship-to-shore live Q&A broadcasts to museums, aquaria, libraries, camps, schools and educator conferences for their hometown audiences. They also share their unique perspectives contributing to lesson plan development and OET's social media - Facebook and Instagram as NautilusLive and on Twitter @EVNautilus. The program at sea coaches Ambassadors to help colleagues and students become engaged in ocean exploration.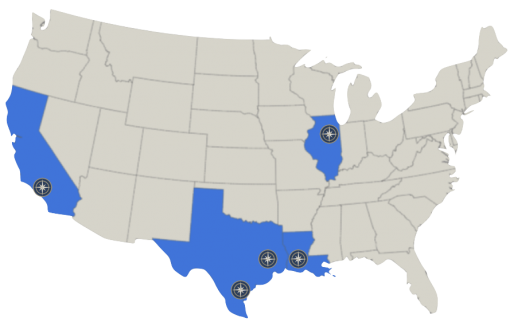 Credit
Ocean Exploration Trust
Four of the 2017 Nautilus Ambassadors represent Community STEM Programs established in partnership with CITGO. Since 2014, CITGO and OET have partnered to create a variety of STEM educational opportunities for teachers and students in TX, LA, and IL. This effort reflects a broader initiative by CITGO to promote academic exploration in the STEM fields. The CITGO-OET Community STEM partnership also supports educator professional development opportunities, STEM enrichment curricula, classroom grants, and in-classroom programs across greater Lake Charles, Louisiana, Houston and Corpus Christi, Texas, and Lemont, Illinois.  
Two of the 2017 Nautilus Ambassadors represent the greater Los Angeles area and are supported by OET's newest Community STEM Program partnership collaborating with AltaSea and supported by a Goldhirsh Foundation LA2050 grants. AltaSea and OET share a commitment to facilitate scientific discoveries while cultivating the next generation of STEM professionals and community leaders.
After their experience at sea, each Ambassador returns home equipped as an education community leader helping colleagues and students become engaged in ocean exploration. Nautilus Ambassadors are important hometown STEM role models and expand the impact of OET's education mission to inspire the next generation of explorers and STEM professionals.

Credit
Ocean Exploration Trust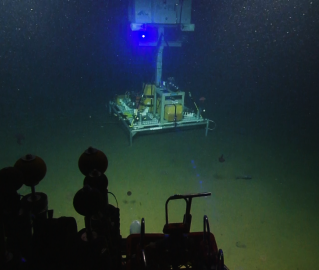 Expedition
E/V Nautilus will move north along Central California's shoreline, renowned for natural rugged beauty that parallels underwater features. In the deep waters off the coast, numerous submarine canyons cross-cut the continental slope, some of which feature exposed canyon walls rich in methane and other chemicals that support unique microbial and animal communities.