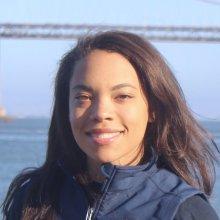 Taylorann Smith
Science Manager-In-Training
Graduate Student
California State University- Northridge
Tell us about your work/research. What kinds of things do you do?
As a student, I have focused on studying ocean acidification and its implications on various forms of marine life. 
What sparked your initial interest in your career?
As a child, I was always very curious about the outdoors but my only exposure to marine life was within aquariums. In my adult life, however, my interest in seriously pursuing this career was sparked my freshman year of college when I watched the Mission Blue documentary and heard Sylvia Earle speak about the declining health of the ocean. I changed my major to Biology and I decided to dedicate my life to helping find solutions for environmental problems. Four years after watching that documentary, Sylvia Earle visited my university in Indiana, and meeting her was confirmation that I was on the right path. 
Who influenced you or encouraged you the most?
My family and teachers have encouraged me through every step of the way, even before I knew I wanted to pursue marine science. Different teachers noticed multiple different sills that I had and encouraged me to keep developing them. My mother and sister are my biggest supporters, and I wouldn't be here if it wasn't for them.
What element of your work/study do you think is the most fascinating?
I think the amount of information that we still do not know is fascinating and encourages me to keep asking scientific questions. The most incredible experience I have had thus far was snorkeling for the first time ever in Bocas Del Toro, Panama with my class. After years of dreaming, I finally go to witness the beauty of the ocean in such an intimate way.
What other jobs led you to your current career?
As an undergraduate, I volunteered at an Aquarium dedicated to educating the public about conservation which made me more interested in science communication in addition to my interests in research. My experience as an undergraduate researcher confirmed that I liked the idea of conducting research, and I always knew that I wanted to be an explorer!
What are your degrees and certifications?
Bachelor of Science in Biology– Ball State University 2018
Currently pursuing a Masters degree in the Ecological Oceanography lab at California State University at Northridge
What are your hobbies?
I have a passion for writing in all forms, but poetry is my most artistic form of writing. I also enjoy painting, drawing, photography, and making videos. My goal is to learn how to play the sitar, but I haven't quite gotten there yet!
How did you get involved with the Nautilus Exploration Program?
I had my first experience studying marine science at Duke University's Marine Lab campus and developed an awesome mentorship with my invertebrate biology professor who not only encouraged me as a scientist but as an artist. Her class highlighted skills I didn't even know I had, and she recommended that I join the Nautilus team.
What advice would you give someone who wants to have a career like yours?
 If you want to be a marine biologist, never give up. I come from the Midwest and didn't have much exposure to marine life, but I knew marine science is something I wanted to pursue. If the path to your dreams doesn't seem clear, pave your own way not matter how difficult it may seem. You will learn so much when you create your own path, and you'll help others just like you achieve their goals too. Learn how to contribute your unique experiences to the field, and don't focus too much on being like everyone else. Your passion is a skill that cannot be taught in a classroom, utilize that. Never let the areas that you struggle in overpower you, keep working on them and know that it is okay not to be perfect. I'd also say stay passionate about other things and find how they intersect with marine biology.