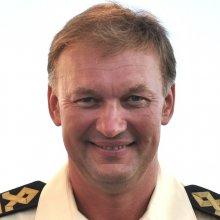 Where are you from?
Difficult to say: I was born in Ukraine, graduated from AMSA, the best Marine Academy in Russia, then lived in St. Petersburg for 19 years. Now I live in Ireland where I moved when beginning to work on research ships.
What languages do you speak?
Ukrainian, Russian, English with an Irish accent, and a little bit of Spanish and German.
How long have you sailed on E/V Nautilus?
For the last 7 years.
What are your roles and responsibilities aboard E/V Nautilus?
I am doing all kinds of things on board, mainly connected with safety, security and crew well being. I am Captain, MASTER of the Ship and second after God on board the most famous exploration ship.
What other jobs led to your current career?
Being Captain is only my job, which I like from the bottom of my heart.
What are your hobbies?
Ships, sports, diving, traveling and poetry.