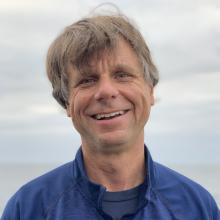 Ian Kulin
Science/Data
Director of Marine Operations, Observatory Operations
Ocean Networks Canada
Ian works with the Ocean Networks Canada team to plan and execute annual maintenance for the VENUS and NEPTUNE cabled observatories. 
Ian is a LEEDS Accredited Professional Engineer and helped manage the past winter upgrades on the E/V Nautilus. Concurrent to his Nautilus duties, Ian continues to work on new instrument development for the Ocean Drilling Program. His most recently completed project was the opening of the Inner Space Center at the University of Rhode Island but has worked on a plethora of projects ranging from new Science Museum construction to oil exploration in the Sahara Desert. Ian started his professional career at Bedford Institute of Oceanography.
Ian graduated from the Technical University of Nova Scotia (now part of Dalhousie University) in 1989 following undergraduate studies at St. Mary's University in Halifax and Universite Laval in Quebec. Ian is an avid marathon runner, cyclist and triathlete.