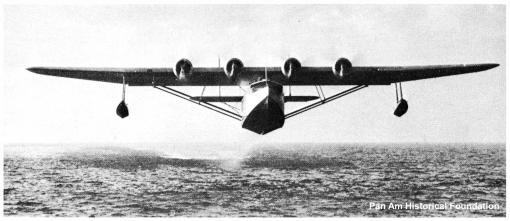 Pan Am Historical Foundation
Working with the Air/Sea Heritage Foundation and SEARCH, Inc., Exploration Vessel (E/V) Nautilus is launching an expedition from July 14-20, 2019 to locate, identify, and document the wreckage of Samoan Clipper, a Pan American Airways Sikorsky S-42B flying boat lost off American Samoa in January 1938. If successful, the resulting survey will characterize an archaeological site with major significance to aviation and American Samoan history, determine the final resting place of pioneering Captain Edwin C. Musick and his 6-man crew, plus investigate the wreckage for evidence as to what lead to their fate. This mission is sponsored by Air/Sea Heritage Foundation and will be led by Russ Matthews, President of Air/Sea Heritage Foundation and Mike Brennan from SEARCH, Inc. acting as Co-lead Scientists and Expedition Leader Allison Fundis, Ocean Exploration Trust. 
The expedition will launch from E/V Nautilus with remotely-operated vehicle (ROV) Argus equipped with a side-scan sonar system to survey the area of the reported crash site off the northwest coast of Tutuila, American Samoa. If the wreck site is identified, the team will proceed with video surveys conducted with ROVs Hercules and Argus for 3D modeling and photogrammetry. 
Linking the Globe by Air
Throughout the 1920s and 30s, Pan American Airways lead the way in establishing aerial links between the United States and the rest of the globe that would ultimately help to define the modern air transport industry. Samoan Clipper was tasked to inaugurate the first regular airmail service between the United States and New Zealand by way of Alameda, Honolulu, Kingman Reef, Pago Pago, and Auckland. A four-engine S-42B type flying boat, Samoan Clipper was built by the Sikorsky Aircraft Corporation with increased fuel capacity and wing area to tackle special long-range survey flights for Pan Am Captain Edwin C. Musick, Pan Am's Chief Pilot, who at one time held more records and honors than any other active flier--including the 1935 Harmon Trophy which recognized him as "the world's outstanding aviator"-- was charged to lead this difficult endeavor. 
The Final Flight of

Samoan Clipper

On the morning of 11 January 1938, Samoan Clipper departed Pago Pago, American Samoa, laden with 751 pounds of express cargo and 2,300 gallons of gasoline for the final, fateful 1,800 mile leg of its journey to Auckland. The first sign of trouble came barely an hour after take off, when an oil leak forced Captain Musick to shut down one of the plane's four engines and turn back. However, attempting to land a now underpowered and overloaded seaplane in the restricted harbor ahead would be extremely hazardous. In a final radio message, Musick reported that he planned to dump excess fuel and was never heard from again. Soon ominous reports reached Pago Pago of smoke seen to the Northwest. 

A US Navy search plane was dispatched and quickly spotted a telltale oil slick in the water. Bits of charred debris recovered the following morning confirmed everyone's worst fears, Samoan Clipper was down and its entire crew lost.  Searchers desperately wanted to reach the wreck, but the great depths (as much as 3,500 meters) at the site meant that it remained beyond their reach. Utilizing technology undreamt of in 1938, today's explorers aboard E/V Nautilus hope to finally write the final chapter of this remarkable story.  

A Bureau of Air Commerce accident report dated 1 April 1938 concluded that Samoan Clipper was brought down by a "fire and explosion associated with the dumping of fuel, the precise cause of ignition being undeterminable." Furthermore, the small size and relative scarcity of debris, coupled with one eyewitness account, suggested to them that the plane had gone into the water at low speed and from low altitude, as if Musick had detected the fire and "started and at least almost completed" an emergency landing of his stricken craft.  The analysis goes on to state that it is possible the general wreckage "being mostly metal, held together sufficiently to sink completely." Today Samoan Clipper almost certainly lays undisturbed where she fell more than 81 years ago.
The Legacy of Samoan Clipper
Samoan Clipper was one of the first serious losses suffered by seminal air carrier Pan American in its long and illustrious history, and today no example of the innovative aircraft type survives in a museum or private collection, nor are there any currently known wrecks. Barely any trace of this trailblazing fleet of flying boats still exists above or below the water, and this expedition represents a unique opportunity to study one of the most consequential of these craft, in the context of its pioneering survey work and tragic loss. 
All involved in the project remain mindful of the human cost associated with the downing of Samoan Clipper. The wreck represents the last resting place of pilot Edwin Musick, first officer Cecil Sellers, junior officer Paul Brunk, navigator Fred MacLean, radio officer Tom Findley, and flight engineers Jack Brooks and John Stickrod. Finding it may bring some closure to the extended families of those pioneering fliers while inspiring new generations to explore their world either through the air or beneath the sea.
Participating Organizations 
The Air/Sea Heritage Foundation, a 501(c)(3) nonprofit founded in 2016, is dedicated to the study, investigation and preservation of relics, wrecks, sites, and stories related to aviation and maritime history. President and co-founder Russ Matthews led the research, planning and fundraising effort which culminated in the Search for Samoan Clipper expedition. And last October (2018), Air/Sea Heritage Foundation also conducted an extensive underwater survey of several significant WWII planes in the Marshall Islands, which included the first use of subsea LiDAR to scan a complete aviation archaeological site.
The Search for Samoan Clipper is the culmination of five years of research, planning, and fundraising by the Air/Sea Heritage Foundation. Inspiration for the project originally came from a white paper co-authored by Russ Matthews, Lonnie Schorer and Dr. James Delgado for presentation at a workshop hosted by Ocean Exploration Trust and NOAA in December 2014 to identify priority targets for exploration in the Eastern Pacific Ocean.
This expedition represents not only a collaboration between Air/Sea Heritage Foundation, Ocean Exploration Trust, and SEARCH, Inc., but the efforts, insight, and contributions of numerous other individuals and organizations such as the Pan Am Historical Foundation, the University of Miami Libraries, the Igor I. Sikorsky Historical Archives, and Pan Am Museum Foundation.
Related Resources
Pan Am Historical Foundation Blogs