Video:
Next on Nautilus: Sailing over Subduction Seeps
Off the coasts of Oregon, Washington, and Northern California lies the Cascadia Margin, an area where E/V Nautilus and other research vessels have mapped and found over 3,500 bubble plumes from methane seeps. A team arrives on Nautilus in days led by Dr. Tamara Baumberger and Susan Merle to study these environments never before seen with cameras. Join these presenters for a conversation about what inspires their research and the technology they'll bring to sea to sample seeps in these first investigations!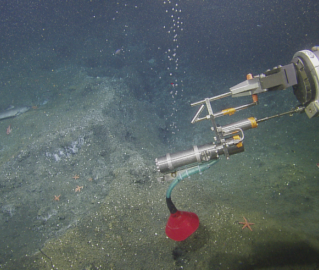 E/V Nautilus Expedition
For two weeks, E/V Nautilus will return to the Cascadia Margin, a geologically active region located offshore of Washington, Oregon, and northern California, where we have mapped and explored many methane seeps and cold seeps.