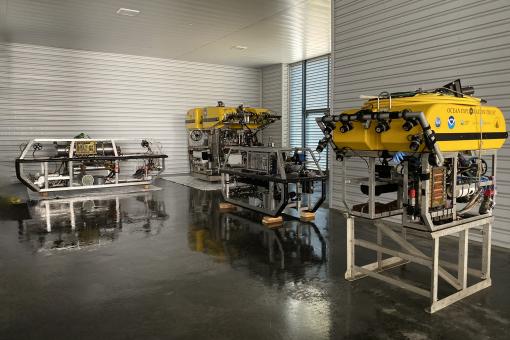 Ocean Exploration Trust
In collaboration with the Woods Hole Oceanographic Institution and the NOAA Office of Exploration & Research, OET designed and built a sister ROV system to complement the Hercules and Argus ROVs. The system provides OET with the nimbleness to conduct missions in multiple regions over the course of a year that would otherwise not be efficient to deploy solely from E/V Nautilus.
This telepresence-enabled ROV system, which was brought online in 2019 and 2020, is composed of ROVs Little Hercules, Atalanta, as well as other equipment to provide OET with the flexibility of operating the system from a wide variety of commercial and academic research vessels. The system is capable of supporting exploration to depths up to 6000 meters with 4K imaging systems.