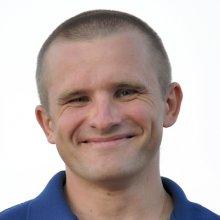 Vitalii Verbyts'kyi
2nd Officer
Where are you from?
I am from Ukraine and live in the small city of Nova Kakhovka, which is located not far from the Black Sea. It is a very beautiful and young city.
What languages do you speak?
I speak in Russian, Ukrainian and a little English.
How long have you sailed on E/V Nautilus?
I have worked on Nautilus since August 2011, when the ship was in Turkey in the port of Hydarpasa. It was my first voyage on a vessel of this type. Work on the Nautilus is a lot more interesting than the commercial fleet. I am very pleased with this work and this vessel.
What are your roles and responsibilities aboard E/V Nautilus?
On the ship I hold the position of the navigation mate. Making a safe passage for the vessel is my main concern.
What other jobs led to your current career?
After school I went to work at sea and for the first five years I worked as a sailor. Since 2004 I was occupying the position of the navigator. At the moment I am also studying in Marine University to enhance my knowledge and advance my career.
What are your hobbies?
My job takes up the lion's share of my life. I have a beautiful wife and three children and when I am at home, I give all of myself to the family. This is my hobby. At home we do everything together: reading, drawing, making something by hand, traveling. Family is everything in my life!