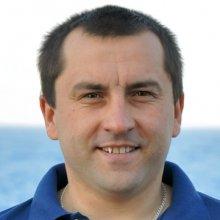 Sergiy Mazur
Electro-Technical Officer
Where are you from?
I am from Ukraine.
What languages do you speak?
Ukrainian, Russian and a little English.
How long have you sailed on E/V Nautilus?
I have sailed on Nautilus since 2009.
What are your roles and responsibilities aboard E/V Nautilus?
I service all electrical equipment on board.
What other jobs led to your current career?
At first I worked as a motorman on the ships, then as electrician – motormen and now I am electrician.
What are your hobbies?
I like to play football and I like to workout.